11 Best YouTube Converter to MP3/MP4 (2023)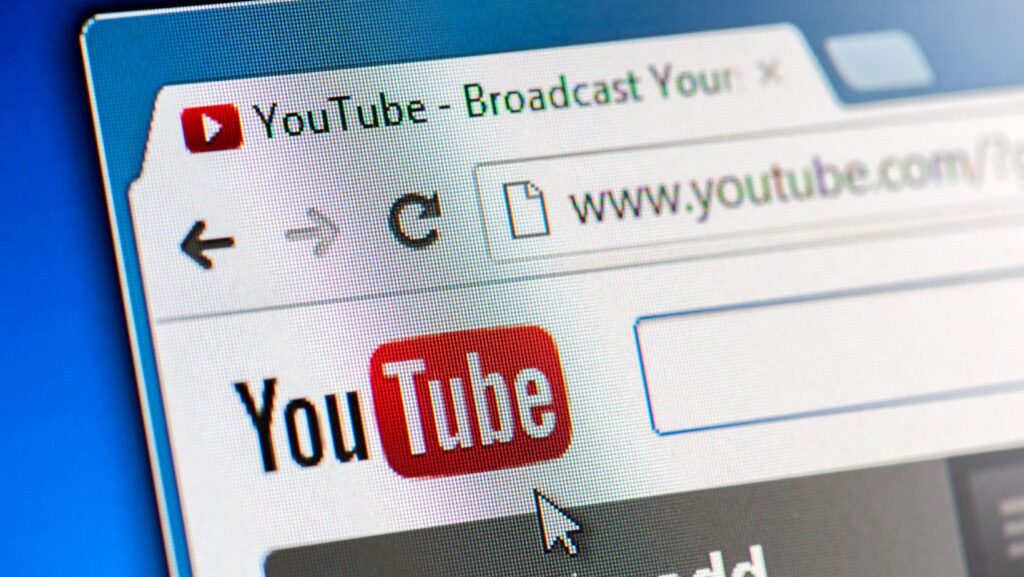 Finding the right tool to convert video and audio files can be challenging. Fortunately, there are many reliable options available that make it easy to download, convert, extract audio, and merge multiple media files.
From free software like aTube and Flvto YouTube Downloader to Allavsoft with its one-time fee of $19.99 for the full version.
In this review, you'll discover some of the best YouTube converters available in 2023. I'll share a basic overview of each tool's features, pricing, and usability. So you can decide which is the best one for your needs.
What Is A YouTube Converter?
A YouTube converter is a tool that lets you convert a video from YouTube into a different format, such as an MP3 audio file, and MP4 video file.
This allows you to save the video or song to your device and listen to it offline. A few YouTube converters can be web-based, while others are downloadable software tools that extract the audio from the video file and save it separately in your preferred format.
Some converters also offer additional features like:
Batch downloading
Converting entire playlists
Adjusting the audio quality.
Although these tools can be helpful for personal use, you should remember that downloading copyrighted material without permission is illegal.
Why Do You Need A YouTube Converter?
You may wonder why you need a YouTube converter if you can simply watch the video or listen to it on the platform. Anyway, here are three reasons:
Offline Listening
You can convert YouTube videos into MP3 audio files and listen to them offline later. This is especially useful when you are traveling or anywhere you don't have an internet connection at your disposal.
Audio Quality
Some converters have options to adjust the audio quality. For instance, you can remove background noise or boost the volume of a recording. Also, you can save the audio in different formats such as MP3, AAC, WAV, and more.
Device Compatibility
Not all devices, like smartphones and tablets, can play YouTube directly. Or if the video you want to watch has been restricted in your country or region. In this case, you can convert the video to a compatible format and enjoy it.
How Do You Choose The Right YouTube To MP3 Converter?
If you want to choose the ideal YouTube converter, you should consider these steps:
Research The Several Options
I suggest reading the list of the best YouTube converters and comparing their features, such as download speed, audio quality, and more. See which one fits your needs and preferences the best.
Check For Key Features
Also, you want to look at each converter's features. This includes conversion speed, format compatibility, video quality, etc. Some converters offer extra features such as batch downloads and playlist conversion.
Test Before Use
One of the best ways to see if a YouTube to MP3/MP4 converter is right for you is by trying it out first. Most converters offer free trials or demos that allow you to test the features and see if they meet your expectations.
Advantages And Disadvantages: Free Vs. Paid YouTube Converters
Next, I'm going to share with you thirteen of the best YouTube converters to MP3/MP4. It is worth noting that certain converters are free, while others may require a subscription or one-time payment.
So you may be wondering which one is better.
Advantages
More features and customization options: Often, paid YouTube converters offer more features like customization options and premium support.
High audio and video quality: Paid YouTube converters generally provide better video and audio quality than free converters.
Safe and reliable: Paid converters are often safer and more reliable than free converters. For this reason, you're better protected against malware and viruses.
Disadvantages
Cost: Well, paid converters can be expensive depending on the features and subscription plan you choose.
Learning curve: Some paid YouTube converts have more complex features and require some technical knowledge. You may need to take some time to learn how to use them properly.
Availability: Not all paid YouTube converters are available in every country.
If you are looking for basic features for converting YouTube videos to MP3/MP4, then a free converter should be enough.
But if you want more powerful and advanced options, then a paid YouTube converter may be the right choice.
List Of 13 Best YouTube Converter To MP3/MP4
Now that you have a good background, here's a list of thirteen of the best options for converting YouTube videos to MP3/MP4:
1: 4K Video Downloader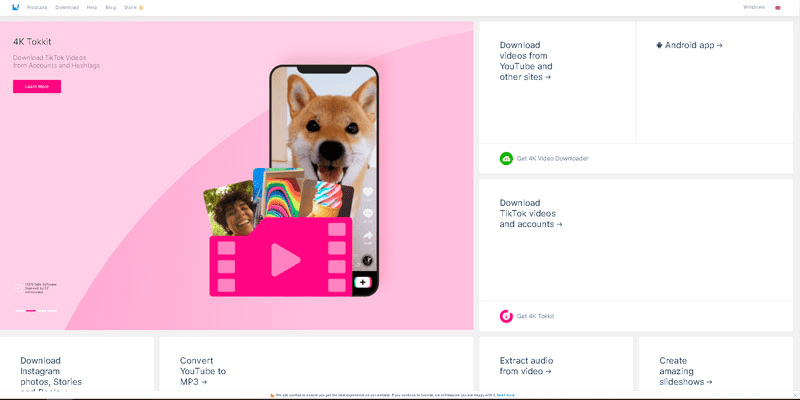 4K Video Downloader is a versatile and user-friendly software that enables people to effortlessly download high-quality videos, playlists, channels, and subtitles from popular platforms such as YouTube, Facebook, Vimeo, and more.
Main Features
Its main features include:
The ability to download videos in multiple resolutions, ranging from 4K to 8K
Support for 3D and 360-degree videos
Direct downloading of MP3 audio files
Download YouTube Playlists and Channels
Video Quality Control
Subtitles and Annotations Download
Private Videos Download
YouTube Premium HQ Audio Download
In-App Proxy
YouTube video URL Import and Export
Price
You have four different pricing plans to choose from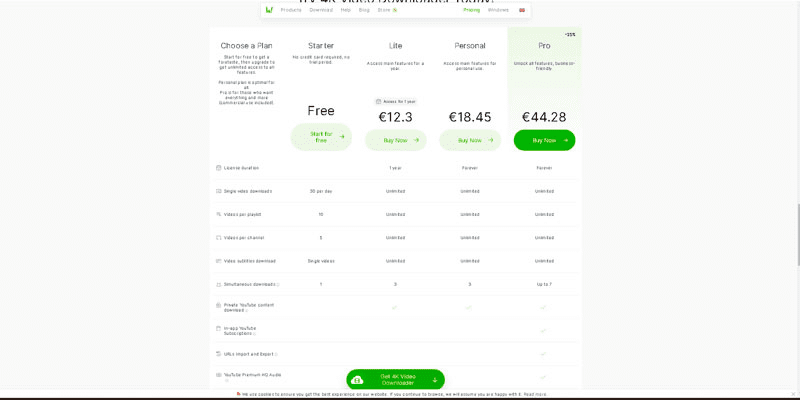 Bottom Line
The software's simplicity, speed, and wide range of supported formats make it a must-have tool for anyone looking to enjoy their favorite content offline, create personal archives, or easily transfer media to their devices without compromising quality.
2: YTD Video Downloader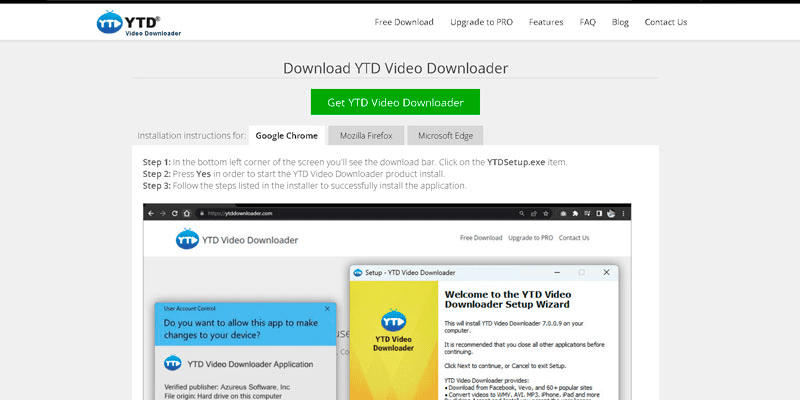 YTD Video Downloader is a video downloading software that allows people to download videos from various streaming platforms like YouTube, Vimeo, Pinterest, Facebook, Tiktok, and Instagram.
You can use it for Mac and Windows operating systems. Also, this software offers a simple, user-friendly interface.
Main Features
Here are some of the main features of YTD Video Downloader:
You can download YouTube videos from multiple websites
Convert videos to various file formats such as mp4, .mov, .wmv, .avi, .mp3, .3gp
Support for high-resolution videos up to 8K
Convert to high-quality audio up to 320kbps
Batch downloading of entire playlists and channels
Extract audio from downloaded videos
It will automatically resume downloads if your connection fails
Free email support to help you solve any issues
Pricing
You have the following plans to choose from: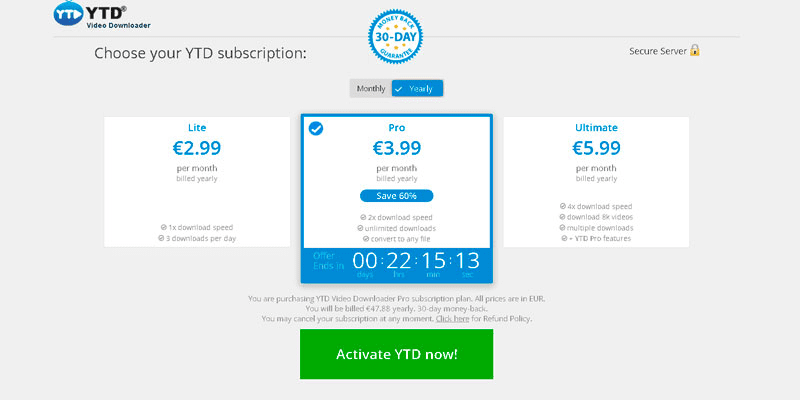 Free Plan
Download and convert videos
Faster download speeds
Ad-free experience
Lite Plan: $2.99/month (billed yearly)
Pro: $3.99/month (billed yearly)
2x video downloading speed
Unlimited downloads
Convert to any file
Ultimate Plan: $5.99/month (billed yearly)
4x video downloading
All of the features from the Pro plan included
Download 8k-resolution videos
Multiple downloads
Bottom Line
YTD Video Downloader is a versatile and easy-to-use software for downloading videos from several platforms. You can convert videos to mp3 files while maintaining the original audio quality.
3: Snapdownloader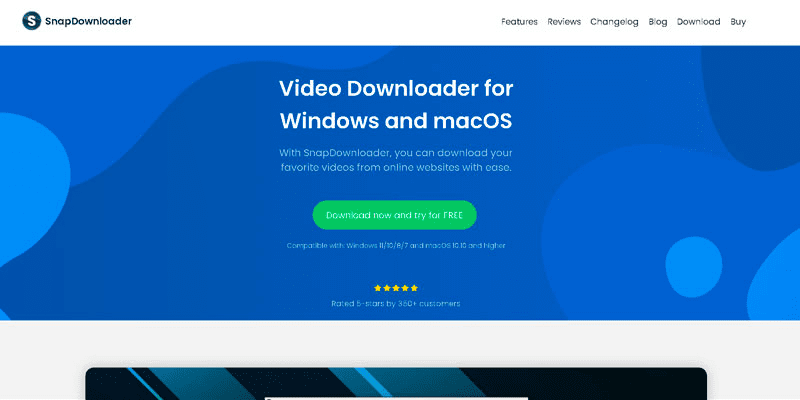 SnapDownloader works for Windows and macOS. You can download videos and audio from over 900 websites.
With SnapDownloader, you can easily download videos and audio from various social media and content platforms. The program offers many useful features, including downloading videos in HD and UHD quality and selecting video format, size, and subtitle options.
Also, you may schedule your downloads, start bulk downloads, trim videos, and download YouTube subtitles in over 50 languages.
Main Features
Download video and audio from over 900 different websites.
Ability to download HD and UHD videos in 144p to 8k quality and select formats, sizes, and subtitle options
Schedule downloads start bulk downloads, and download subtitles from YouTube in over 50 languages
Trim videos before downloading
Built-in browser to browse popular streaming websites
Well-designed user interface with four tabs: Search, Browser, Downloads, and Settings
Dark mode color scheme for easy viewing
Supports Windows 7, 8, and 10, and macOS X 10.10 or higher
Compatible with 32-bit and 64-bit systems
Simple activation process with license key input
Offers MP4, AVI, and MOV video output formats
Customizable download settings for folder location, filename, and metadata
Simultaneous download setting customization
Pricing
SnapDownloader offers three different pricing plans: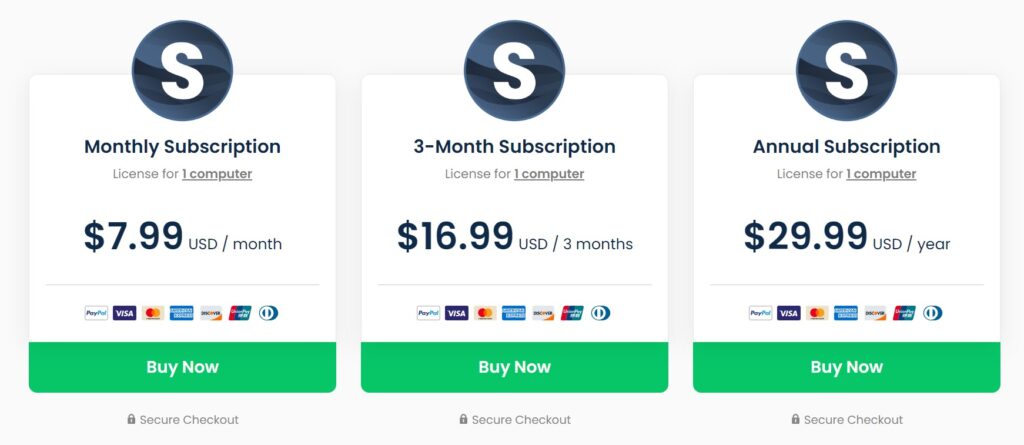 Monthly Subscription: You pay $7.99/month
3-Month Subscription: Every three months, you pay $16.99/monthly
Annual Subscription: Every year, you pay $29.99
Bottom Line
This software is ideal for anyone who uses social media platforms like Instagram and Tiktok YouTube and wants to download and save their favorite videos to watch offline or share.
Also, it's great for social media marketers, content creators, and researchers who want to analyze and save videos for their work.
4: aTube Catcher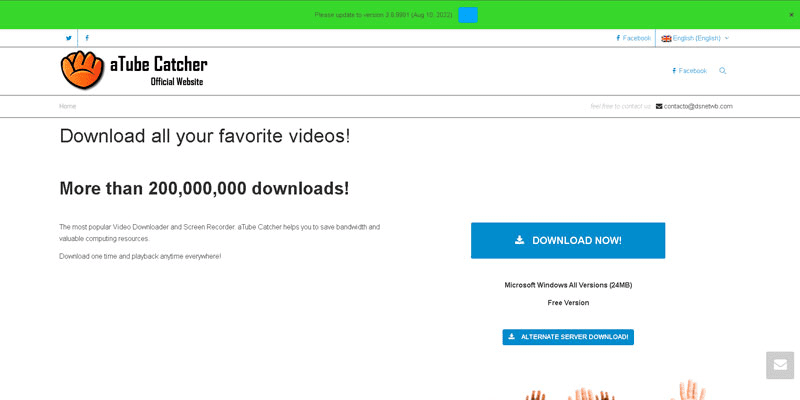 aTube Catcher is a free YouTube tool that lets you download videos from websites such as YouTube, Dailymotion, and Metacafe.
It also has features to convert videos to various formats, record screens, and burn discs.
Main Features
Download videos from various websites and convert them to popular formats suitable for different devices.
Screen recorder that can capture video from the screen and live streaming.
Automatic updater to ensure that the user is always using the latest version of the software.
Batch processing to download multiple videos at once.
Ability to create VCDs, DVDs, and Blu-ray discs.
Pricing
You can use aTube Catcher freely without any costs.
Bottom Line
aTube Catcher is a great tool for downloading videos from the internet and converting them to popular formats. You shouldn't expect to find too many features here. However, the ones that are included are very useful.
It's especially great for people who want to record their screens or burn discs for their videos. If you aren't looking for anything complicated, then aTube Catcher is the perfect choice.
5: WinX HD Video Converter Deluxe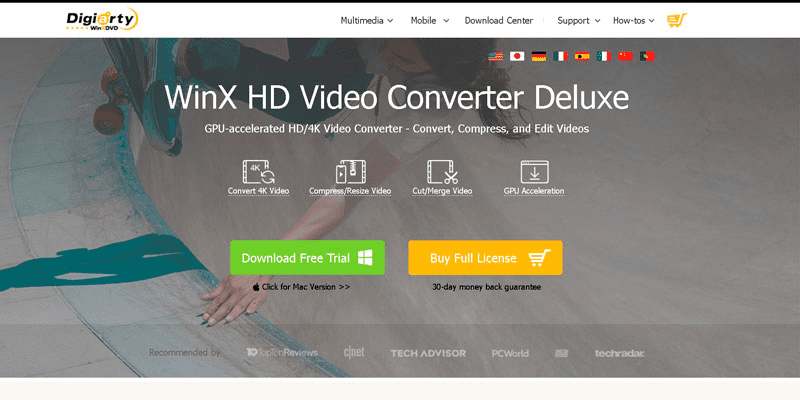 WinX HD Video Converter Deluxe is a Windows program that lets you convert 370+ different videos into 420+ video and audio formats, along with editing, downloading, and processing video files.
The program offers a free version with limitations, and its full version needs to be purchased to access all features.
This software maintains video quality after conversion, offers fast downloading speeds, and allows you to edit your videos. It also can convert photos to videos with music.
Main Features
Supports 8K/4K/1080P videos
Converts 370+ different videos into 420+ video and audio formats
Edit videos with basic features, including cutting, adding subtitles, cropping, merging, adjusting volume, trimming, and renaming
Allows customization of video quality
Can convert photos to video with music
Allows video conversion in batches
Supports 320+ input formats and 420+ output formats
Offers output settings to adjust video and audio quality
Fast conversion speed
Maintains video quality during conversion
Pricing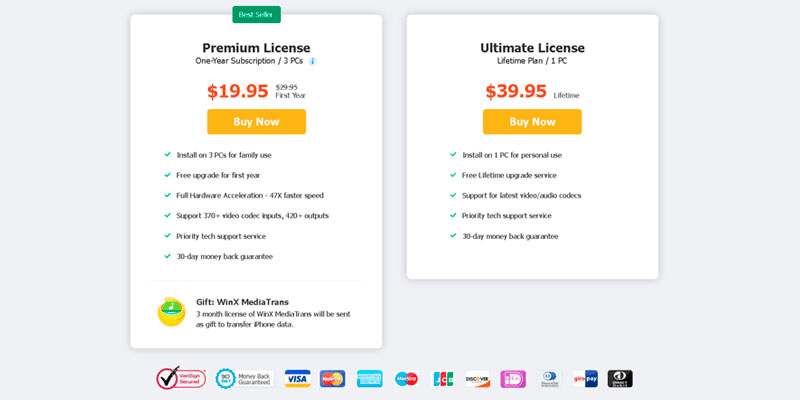 The program offers a free version with limitations, and its full version needs to be purchased to access all features.
The free trial version has a 5-minute limit, supports 1080P, HD, and common videos only, can download videos from 300 websites, and can convert videos to MP4, AVI, MPEG, WMV, and several formats only.
The full version can be purchased through the program's official website.
You have the Premium License at $19.95/year. If you prefer a lifetime subscription, you can choose the Ultimate License at $39.95.
Bottom Line
WinX HD Video Converter Deluxe is a useful software that can help you convert video files to a wide range of formats, download online videos, and create photo slideshows.
It has a user-friendly interface ideal for those new to video editing software.
If you need to convert videos for different purposes, such as playing them on different devices or sharing them with others, WinX HD Video Converter Deluxe can be a handy tool.
It also provides added functionality by allowing you to download videos from various online sources and create photo slideshows.
6: Wondershare Uniconverter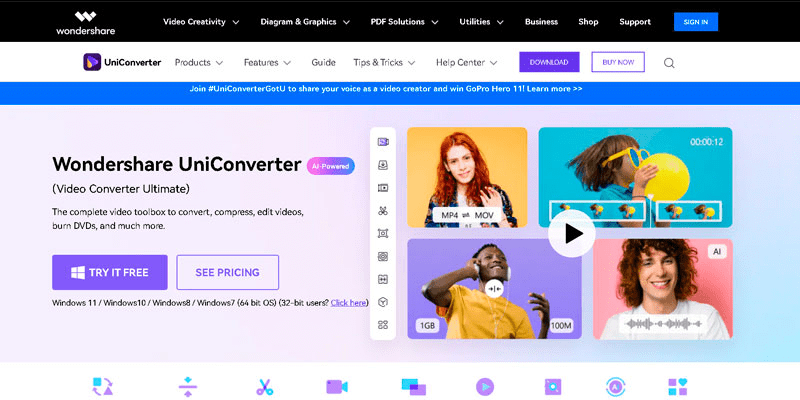 Wondershare UniConverter is a video conversion software that supports various video formats, including 4K-capable codecs like H.265, earlier HD and legacy codec formats, and conversion for virtual reality headsets and mobile devices.
Also, it allows you to edit and trim videos, apply filters, and add subtitles during the conversion process, all within a streamlined user interface.
Main features
Video conversion for over 150 formats, including 4K, 3D, and VR videos
Batch conversion of multiple videos at once
Video editing features, such as trimming, cropping, adding watermarks, filters, and subtitles
Downloading videos from various websites, including YouTube, Vimeo, and Facebook
Burning videos to DVD or Blu-ray discs
Transfer videos to mobile devices, external hard drives, or USB drives
GPU acceleration for faster conversion
Clean and user-friendly interface
Supports Windows and Mac operating systems
One-time purchase or yearly subscription option
Helpful FAQs and customer support are available.
Pricing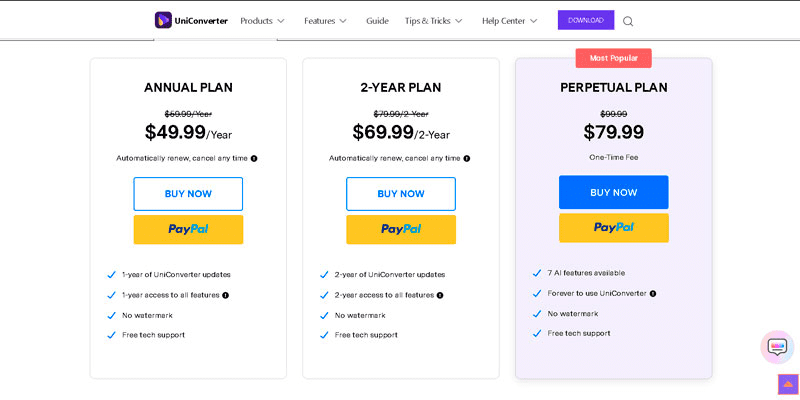 UniConverter is available for a one-time fee of $79.95 or a yearly subscription of $49.99.
Bottom Line
Wondershare UniConverter is a powerful video converter software that lets you convert, compress, edit, and download videos from various sources.
It comes with a user-friendly interface and supports a wide range of video and audio formats. You also get additional features like DVD burning, video recording, and video metadata editing.
This software is a great option for anyone looking for an all-in-one solution to manage their video files.
7: Freemake Video Converter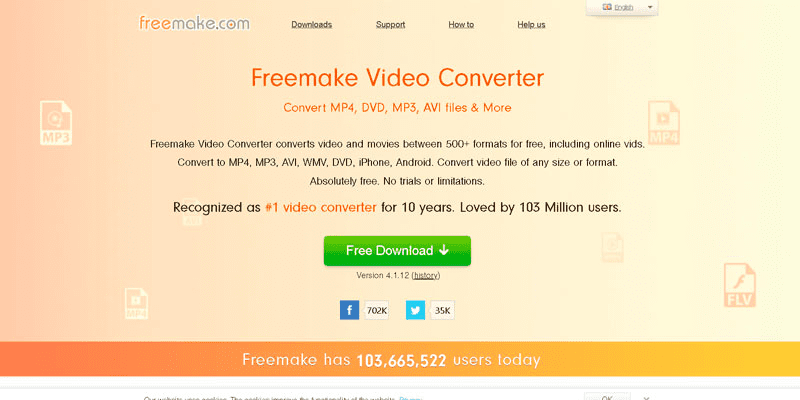 Freemake Video Converter is a free software designed for video conversion and editing.
It has a user-friendly interface and supports a wide range of input formats.
You also have options to trim your videos, add subtitles, merge video files, burn files directly to a disc, and even download and convert online videos.
Main features
It supports many different input file formats for video, audio, and images.
Burns files directly to a DVD or Blu-ray disc and has the option to make a DVD menu when burning files to a disc.
Converts files and automatically uploads them to YouTube
Downloads and alters streaming clips from YouTube and other video sites and extracts audio from YouTube clips
Enables users to make their own DVDs with a DVD menu and subtitles
Supports custom conversion settings for devices that are not on the supported list
Pricing
Freemake Video Converter is free software, but it supports only one free conversion before users have to pay. The program tries hard to get users to upgrade, and it can be used for just one conversion before the upgrade is required.
However, there are other free video converters available on the market that offer better options.
Bottom Line
Freemake Video Converter is a free and easy-to-use video converter that supports a wide range of input formats and can perform various video editing tasks, such as trimming and adding subtitles.
However, the program has some downsides, such as slow conversion speeds and limited free conversions before requiring payment.
Overall, it is a decent option for basic video conversion needs, but better alternatives may be available.
8: MediaHuman YouTubeTo Mp3 Converter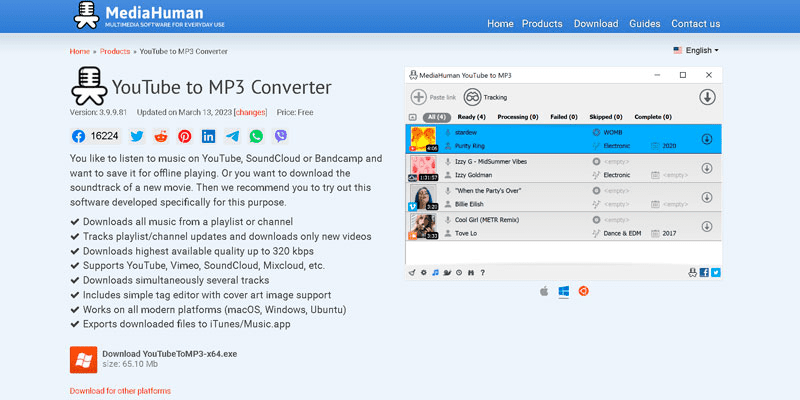 MediaHuman YouTube to MP3 Converter is a freeware that lets you extract and download MP3 tracks from YouTube music videos and other platforms such as Vimeo, SoundCloud, and Mixcloud.
It has an uncomplicated interface and includes useful features, such as downloading all music from a playlist or channel, tracking playlist/channel updates, and downloading only new videos.
Main features
Downloads all music from a playlist or channel
Tracks playlist/channel updates and downloads only new videos
Downloads highest available quality up to 320 Kbps
Supports YouTube, Vimeo, SoundCloud, Mixcloud, etc.
Downloads several tracks simultaneously
Includes a simple tag editor with cover art image support
Allows users to adjust the bitrate and choose from several output formats (MP3, M4A, OGG)
It offers a clean installation without any bundling or nasty surprises
Pricing
MediaHuman YouTube to MP3 Converter is freeware and does not require any payment.
Bottom Line
Despite lacking an up-to-date, working portable version, it's clean, simple, free, and effective.
9: Allavsoft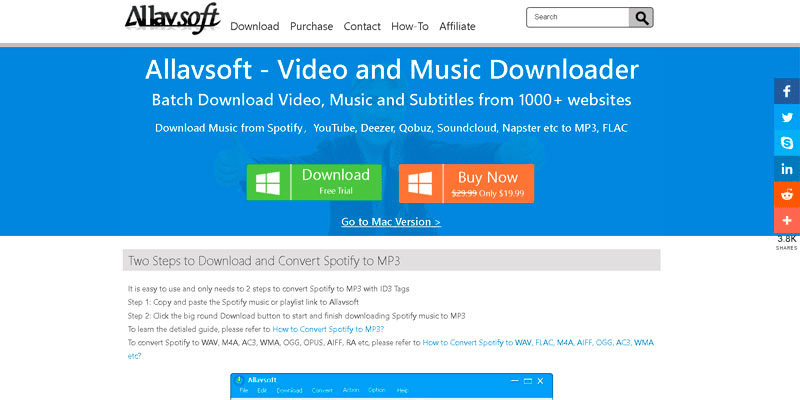 Allavsoft is a video downloader for Mac and Windows PCs. It lets you download videos from several media-sharing websites like Instagram, Twitter, Udemy, Vimeo, YouTube, and more.
Furthermore, you get features like media conversion, audio extraction, screen recording, and merging videos.
Main Features
User-friendly and intuitive interface with an easy-to-use download process
Download multiple YouTube videos at once
Media converter with various device-specific format options
Audio extraction for downloading only the audio file
Browser extension to simplify the download process
Screen recorder to capture clips from videos
Video merging with format selection
Compatibility with various operating systems, including Apple, Linux, Chrome, Android, Firefox, and Windows
Pricing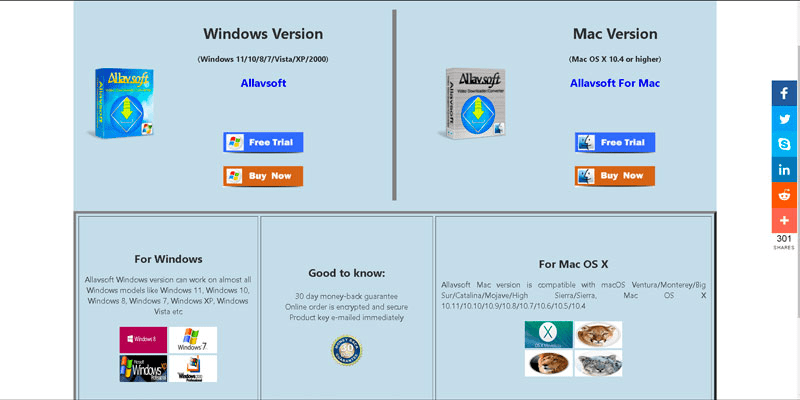 Free trial available with restrictions
The full version costs a one-time payment of $19.99
30-day money-back guarantee
Bottom Line
Allavsoft is a useful and user-friendly video downloader that offers a range of features such as batch downloads, media conversion, audio extraction, and merging options.
It supports many media-sharing websites you won't find with other video downloaders and offers a free trial version.
While the free version has some buggy features and limitations, the one-time payment of $19.99 for the full version is a fair price.
10: iTubeGo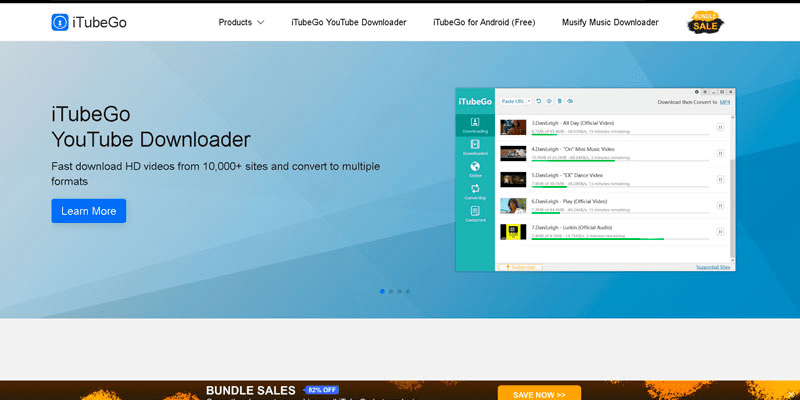 iTubeGo is a YouTube downloader that supports downloads in 8K, 4K, and HD quality from numerous streaming platforms and websites.
It also features a high downloading speed and support for downloading playlists, audio, channels, and videos.
You can use the software on Windows, Mac, and Android devices, and it supports downloads from YouTube, Facebook, Instagram, Dailymotion, TikTok, Vimeo, and many more platforms.
Main Features
Download videos from various websites, including YouTube, Facebook, Vimeo, Instagram, SoundCloud, and more.
Convert videos to various formats, including MP3, MP4, MOV, AVI, and more.
Download entire playlists or channels with a single click.
Download videos in high quality, up to 8K resolution.
The built-in browser allows you to search and download videos directly from iTubeGo.
Supports batch downloading of multiple videos at once.
Turbo-fast download speeds up to 10x faster than other downloaders.
Supports downloading subtitles and closed captions.
Extract audio from videos and save them as standalone MP3 files.
Schedule downloads to start automatically at a specified time.
Pricing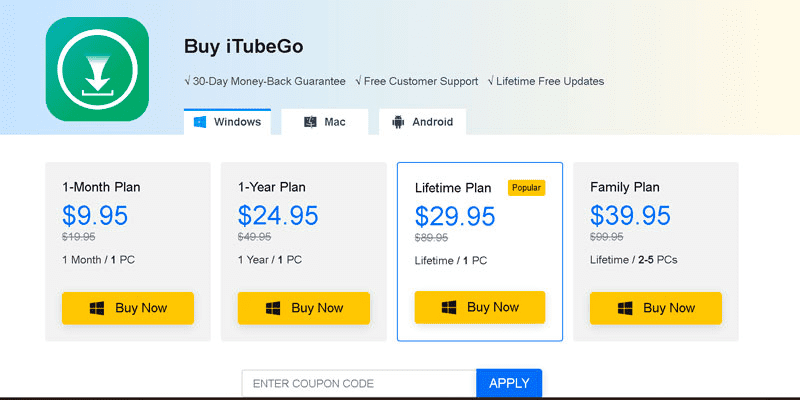 iTubeGo offers a free trial version but has several limitations, including only three downloads, one playlist download, and no bulk downloads.
The paid versions of iTubeGo include the Lifetime plan, 1-year plan, 1-month plan, and Family plan, and the price varies depending on the system used.
Bottom Line
If you're looking for a comprehensive and easy-to-use platform for downloading and converting media from various sources, with high-quality output and support for a wide range of formats and devices, then iTubeGo is worth considering.
The free trial version limits your downloads, but the paid versions are reasonably priced and come with several useful features.
11: Flvto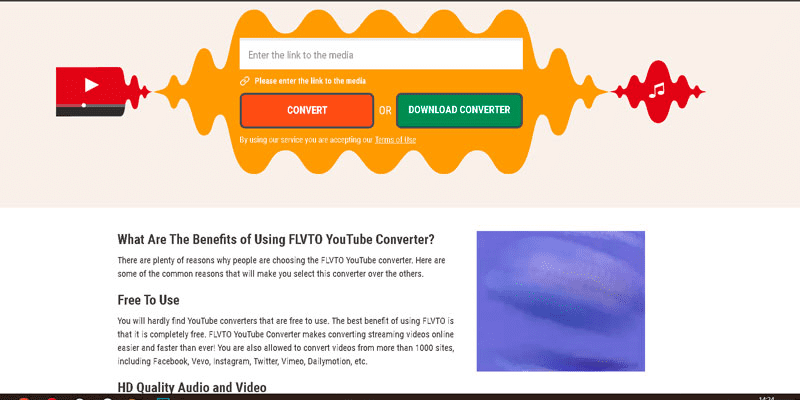 Flvto YouTube Downloader is a sleek and easy-to-use online converter tool that millions worldwide use to convert video and media files from YouTube into MP3.
Main Features
Supports several different file formats.
Easy-to-use interface.
It can convert up to 99 videos simultaneously without compromising speed or quality.
Uncapped download speed with high-quality audio and video.
Offers ID3 tags for easy organization and clarity.
Built-in quality player for audio and video.
Compatible with popular platforms such as SoundCloud, Facebook, and Vimeo.
The official extension for faster access and downloading.
Works on macOS, Linux, and Windows devices.
Pricing
Flvto YouTube Downloader is free, and there is no need to subscribe or fill out a registration form to use the tool.
Bottom Line
If you're looking for a free and simple way to download videos from YouTube, Flvto YouTube Downloader is worth considering.
It offers many features, including support for various file formats, high-speed downloads, and the official extension for faster access.
Final Thoughts
Finally, the best video downloader for you is determined by your own needs and tastes.
If you're juggling many movies or need to extract audio from a video, Allavsoft is a solid option. DVDVideoSoft, on the other hand, is the go-to solution for device-specific presets and extensive digital media conversions.
Flvto YouTube Downloader is an appealing option for users on a tight budget who want speedy downloads and integrated player capability.
These are only tools, and the best one for you is the one that best matches your specific needs.
Bio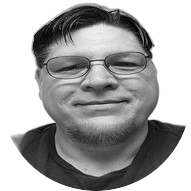 Ronnie Patterson
Ronnie Patterson, founder of MagnÜron, is a multifaceted entrepreneur with a diverse background in music, electronics engineering, and engineering management. Drawing on experience across various industries, He offers expertise in SEO, operations, and strategy to help businesses thrive. Possessing a unique perspective and unwavering commitment to collaboration, and ideal partner for growth and success.